Certification: the basis of trust
Our goal is to establish data spaces that guarantee data sovereignty and safe collaboration between partners. The foundation of IDS is trust, which must be established through a rigorous, transparent certification process.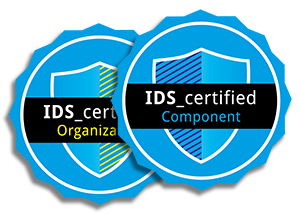 Data is valuable and vulnerable. So you need to be sure your partners and collaborators in data sharing are bound by the rules you set regarding what data can be used, how it can be used, for how long and at what price. The certification of core components and the operational environment of a data space is what provides you and your partners with that confidence.
Building trust on two levels
The participants in the data space collaborate by sharing their valuable data. The success of this collaboration depends on trust among all parties involved, and this, in turn, is guaranteed by a transparent certification of the environment and components. This two-pronged approach provides a high level of trust and security.
Core component certification
We evaluate and certify the core components of IDS based on whether they provide the required functionality and security.
Operational environment certification
This evaluation provides an assessment of the trustworthiness of the physical environment, defined processes, and organizational rules.
Low barriers to certification
To minimize the effort for organizations, IDS certification is compatible with commonly used security standards like ISO 27001 and IEC 62443. This way, existing documentation and setups can be reused for IDS certification.
Leaflet
How to get IDS_certified! 
Blog
The plugfest as a driver for a vital IDS ecosystem 
Position Paper
IDS certification explained