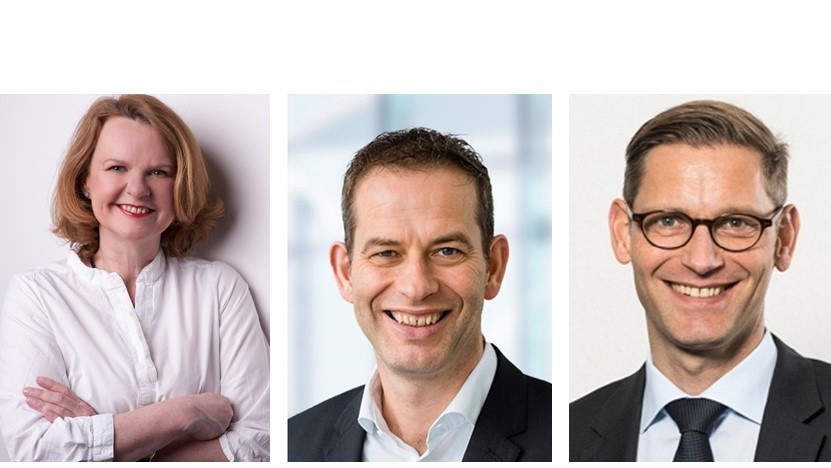 The Plattform Industrie 4.0 asked three experts who are engaged in the Plattform: Prof. Dr. Svenja Falk, Managing Director at Accenture, Christoph Plass, Board of UNITY, and Prof. Dr.-Ing. Boris Otto, Managing Director of Fraunhofer ISST and Deputy Chairman of the IDSA Board.
Question 1: Where is the greatest potential for digital business models for manufacturing companies?
Prof. Dr. Svenja Falk: From the triad "networked factory, networked products, networked enterprise networks", new added value and competitive differentiation emerge. I currently see the greatest potential in Smart Services for maintenance and quality management (condition monitoring), as well as productivity increases through digital networked production. To achieve this, the following technological building blocks are important: cloud (PaaS, IaaS, SaaS), connectivity, artificial intelligence and big data, as well as cybersecurity. In the future, open standards and interoperability will be the basis for new business models and a stronger focus on the customer experience. This includes the monetization of operational data as well as the co-development of products and their joint use.
Question 2: What are the key challenges on the way to a digital business model?
Christoph Plass: When building digital business models, companies often focus on new digital technologies. They want to introduce them with the help of agile organizational models, enriched with modern cultural elements. They expect success, but often it does not happen. This is essentially due to the fact that the focus is on the ways and means – i.e. the HOW. The purpose and goals – the WHY – remain unanswered. A digital business model requires a clear strategy, with vision and concrete goals. We are experiencing great uncertainty here. For example, there is a lack of experience in how data should be monetized.
Prof. Dr.-Ing. Boris Otto: The success factor for digital business models is the mastery of the entire data value chain, i.e. all activities from data generation to data pre-processing, storage, distribution and analysis to the use of the data. A particular challenge here is the fact that the data value chain often crosses company boundaries and extends across entire ecosystems.
Question 3: What helps companies to implement new business models?
Christoph Plass: The analysis shows that the challenges are multi-layered and complex. From many practical cases, we have identified success factors as well as problems and obstacles for the five areas: Strategy, Human Resources, Implementation, Culture and External Environment. Companies have to face these. There are large solution areas. An ideal concept does not exist. An individual evaluation of the company situation in these areas is therefore necessary.Prof. Dr.-Ing. Boris Otto: Data is the raw material of digital business models, but many companies are not yet "data ready". In order to be able to play a part in digital ecosystems, you have to have your own data under control. Many companies still have some catching up to do here.
For the Q&A in German: Click Here