Fairs & Events
December 7, 2021 – December 9, 2021
Data Sharing Winter School | Next Mobility – Smart Data Sharing to Move Goods and People
From December 7 to 9, IDSA will organize the 2nd Data Sharing Winter School in collaboration with Fraunhofer AISEC, Institut Mines-Télécom and University of Oulu as well as the co-hosts Academy for the Industry of the Future and Franco-German University.
Data spaces – the secret sauce of the data economy
When it comes to the digital transformation of the economy, the provision and sharing of data in data spaces are at the center of the discussion.
Europe wants to accelerate the digital transformation with the use of data and meaningful approaches to data sharing. Expectations are high: The future viability of our entire EU economy is at stake.
This is a perfect time for you to learn more about data sharing and topics like interoperability, data sovereignty and data usage control as success factors for data spaces.
New mobility
One sector will transform like no other: mobility. Autonomous driving, smart cities, intermodal transport – unthinkable without data sharing.
In 12 sessions, experts will present new technologies, scientists will talk about the state of research, and practitioners will show innovative mobility solutions to urban problems, such as the Mobility Data Space, one of Europe's lighthouse projects.
You will deepen your knowledge on data sharing, connect with renowned experts and accelerate your career in the data economy of the future.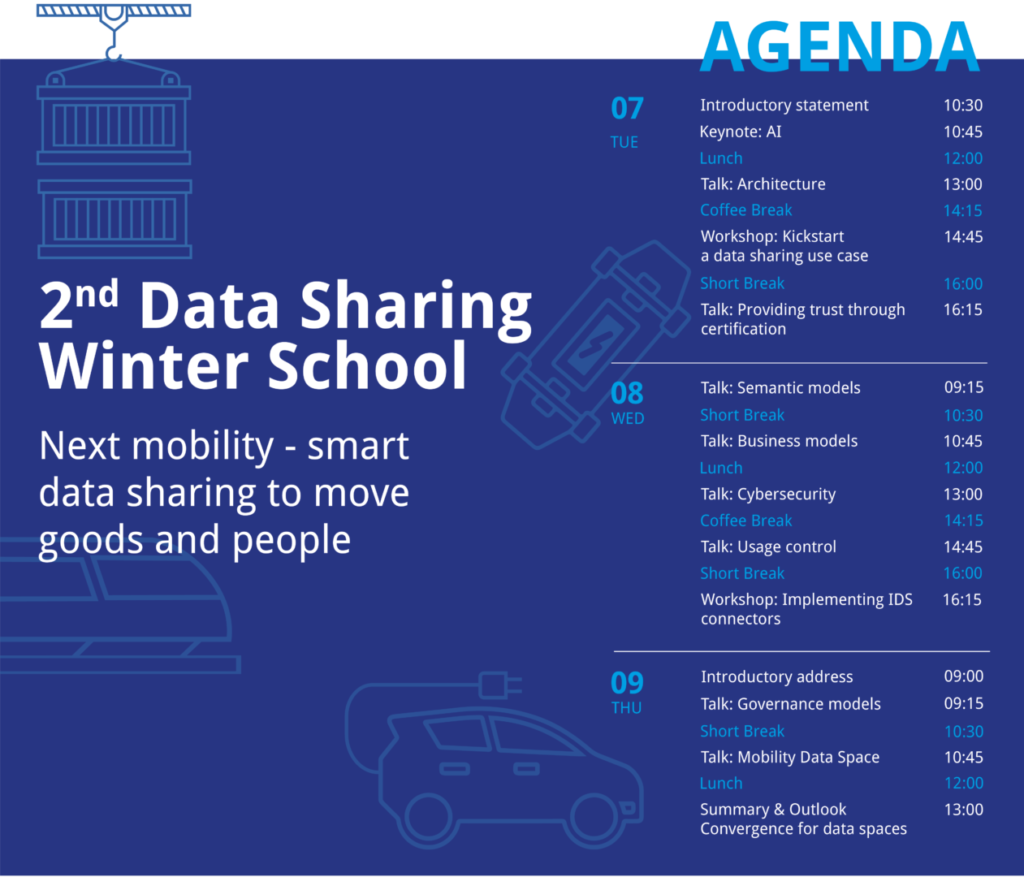 Together online
The Data Sharing Winter School comes to you. It is completely online. You will have access to a platform with an interactive seminar area, exciting networking opportunities, and clearly presented supplemental content.
Requirements, certificate, price
This event is designed for students and researchers from RTOs and R&D departments of companies with a scientific background.
The Winter School includes a technical workshop in which you must successfully participate for the certificate of completion. Highlight here: For the successful completion of the Winter School you will receive an ECTS credit!
The Winter School is free of charge.
Register here: hopin.com/events/2nd-data-sharing-winter-school
Questions: winterschool@internationaldataspaces.org
---
Date/Time
Date(s): December 7, 2021 – December 9, 2021
All Day