Fairs & Events
September 20, 2023
Workshop | Interoperability in Data Spaces II – Use Cases, Tooling, Governance
Join us for the Data Spaces & Semantic Interoperability Workshop! The increasing number of data spaces and data markets in Europe has created a pressing need to address data interoperability challenges. Building upon the success of the 2022 workshop, the TRUSTS project, University of Economics Vienna, IDSA, W3C, Semantic Web Company, Fraunhofer FIT, Digital Intelligence Offensive Austria, and other leading organizations invite you to participate in a full-day workshop dedicated to exploring syntactic and semantic interoperability in data spaces.
This workshop, held in conjunction with the SEMANTiCS 23 conference, will feature:
Experts Panel: Engage in insightful discussions on syntactic and semantic interoperability, guided by a panel of renowned experts in the field.
Lightning Talks: Hear from experts who will present their findings and perspectives on the topic of interoperability in data spaces. These lightning talks will provide valuable insights and spark further discussions.
Interactive Discussions: Participate in in-depth discussions focused on the workshop's central theme, allowing attendees to exchange ideas, share experiences, and identify key requirements and best practices.
The workshop aims to bring together researchers, decision-makers, and practitioners involved in the development and operation of European data spaces and data management systems. By sharing knowledge and experiences, we will collectively work towards enhancing (semantic data) interoperability.
The outcome of the workshop will be a comprehensive document summarizing the discussions and insights, including requirements for interoperability and a list of existing tools and vocabularies. This document will be made freely available under an open license for the benefit of the wider community.
Don't miss our workshop and contribute to shaping the future of data interoperability in data spaces – a great opportunity to connect with experts and gain valuable knowledge.
To join the workshop, please register for a one-day SEMANTiCS 2023 conference ticket using the discount code DAYPASS-95-20092023. This code provides you with a one-day ticket for the discounted price of 95 Euro that enables you to participate in the workshop September 20, 2023. For the conference registration:  https://2023-eu.semantics.cc/page/registration – don't forget to apply the code!
Workshop agenda (click here to get the agenda as PDF):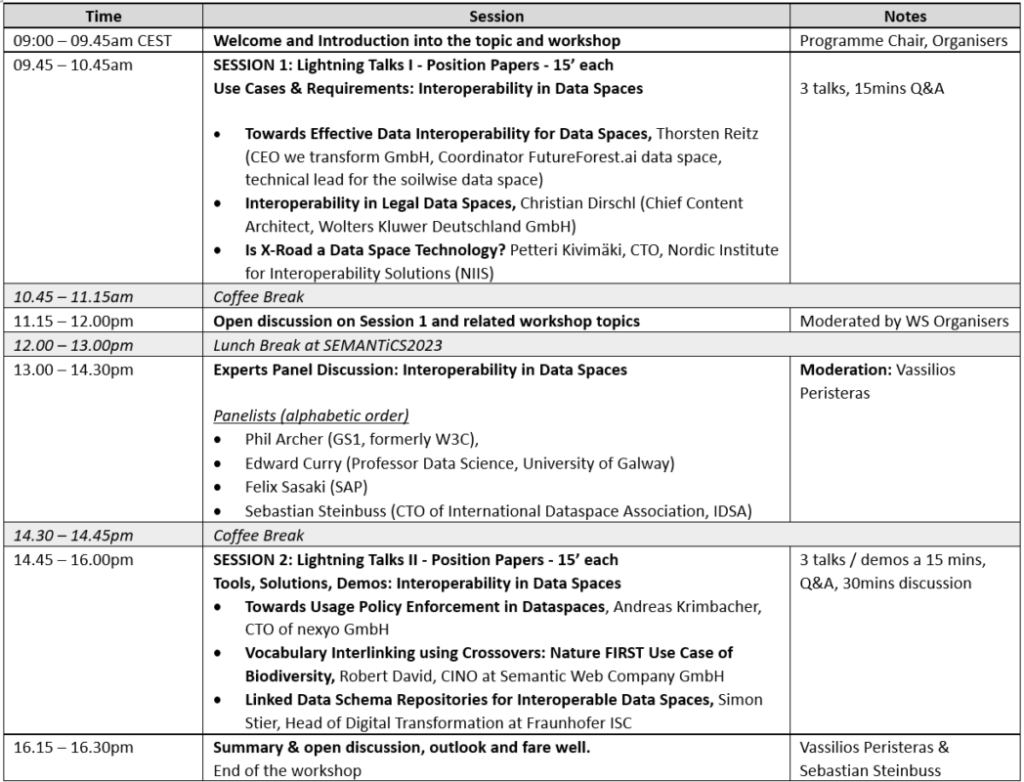 Workshop organizers:
DataBri-X project
IDSA
Semantic Web Company
University of Galway – Insight SFI Research Centre for Data Analytics
Glaciation project
ERCIM – European Research Consortium for Informatics and Mathematics
champI4.0ns
Program committee:
---
Date/Time
Date(s): September 20, 2023
9:00 am - 4:30 pm
Location
Hyperion Hotel Leipzig
Sachsenseite 7
Leipzig, 04109
Germany