by Hannes Bauer, idento.one, and Simon Schlesinger, SCOPE
Transparent and Secure E-Recruiting with SCOPE and idento.one
What's the deal with e-recruiting, you may ask. Today recruiting is digital – this is shown by current studies on the job market. Younger job applicants use Google & Co. to search for a job, often from their smartphones. This means that job advertisements not only have to be found online, but also need to be easily displayed on various devices. In SCOPE, customers can quickly publish job ads, as well as view and process all applications received. We developed our software with a clear goal in mind: To make e-recruiting possible for everyone. In our cloud solution, all information is properly sorted and easily accessible for the whole team. When processing such sensitive data, security is our top priority.
Secure data transmission with IDS connectors
The International Data Spaces Association (IDSA) has developed the IDS standard for secure data transmission. As idento.one and SCOPE, we aim to offer our clients this state-of-the-art security technology, which ensures transparency and legal certainty when handling personal data. Our working principle is to free our customers from the potential risk associated with the storage of such sensitive information. On the other hand, IDS gives us the possibility to free ourselves from this risk as a data pool provider.
To this end, IDS connectors will be integrated into the application process, so that each applicant can determine who has access to their data and when. We aim to provide all candidates with the opportunity to create an account at idento.one directly during the application process, without generating additional effort or even interrupting the process.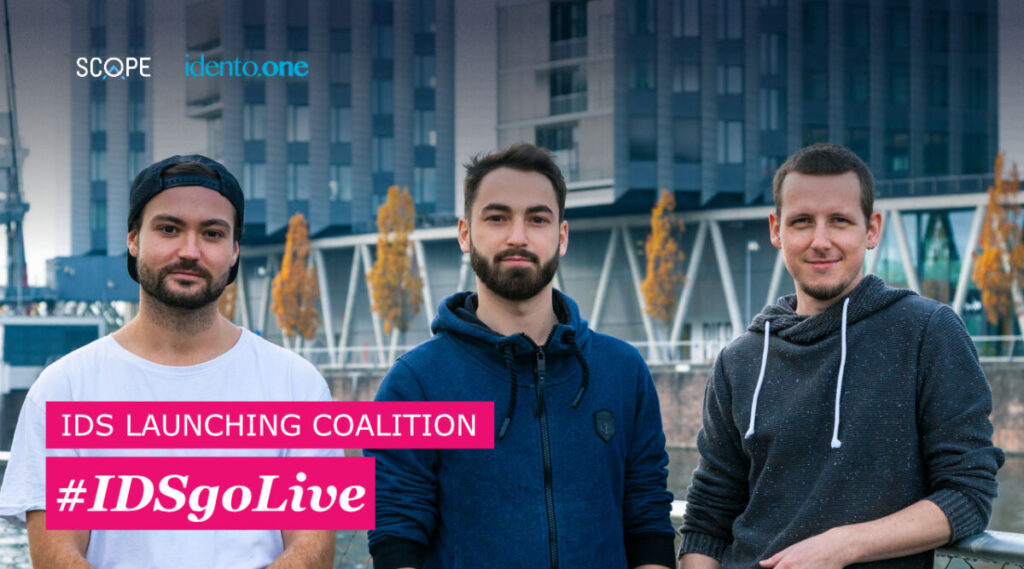 The customer is in control over his data
Trust and data sovereignty are at the heart of the IDS. All users of idento.one have guaranteed access at all times and determine themselves who will use their data, for how long, for which application, how often and under what conditions. Absolute security is a must, especially when personal documents such as resumes and CVs are involved.
For the applicant, the process is as easy as it gets: With a check mark, the user gives the potential employer permission to access their data. With one click on a button, this permission can be revoked at any time and thus determine exactly who sees the data and when. Thanks to absolute transparency, applicants will always feel safe when applying with SCOPE.
What does the secure data transfer via IDS look like in the case of SCOPE?
A company signs up on SCOPE and we will, on request, automatically create an idento.one account for them, so that their applicants can benefit from secure data transfer using IDS.
Our customers publish job ads via SCOPE and give their applicants the option to access their data at any given time thanks to idento.one.
If the candidates give their permission when applying for a job, we create an idento.one account for them too.
The so-called connector provides a technical interface for all communication between SCOPE and idento.one. Thanks to this certified connection, the applicant's personal information can be encrypted on demand by our system. On each query it will be checked whether the applicant's data release is still up to date. Only if this is the case will the applicant's data be transferred to our system and made available to the advertising company.
The use case of idento.one and SCOPE is one of the solutions that will be brought to market by September 2020 as part of the Launching Coalition process.
If you want to follow our journey subscribe to our IDSA newsletter, follow #IDSgoLive on Twitter and LinkedIn, and come back to this blog frequently.