If you didn't make it to Hannover, here's what you've missed: 100 square meters of yellow, pink and blue exhibition space under a sparkly sky with showcases of running data spaces and lots of coffee and cute cupcakes. 
IDS Certification debuts at Hannover Fair 
But first things first: We launched our IDS Certification last week in Hannover to big applause. This "seal of trust" will enable companies and organizations to securely share data with others – it was presented by our own Sonia Jimenez. Now we have the central tool to certify the partner components and operational environments for our common goal: proper and trustworthy data sharing to create additional value. It is a milestone developed by the IDSA tech team and the IDS working group certification, one we are especially proud of!
To put some delicious icing on top: Apply for the IDS Certification Award 2022. Win a grant of €20,000 (for the first five applicants!) towards your certification. See details here: https://ids-certification-award-2022.org/.
Meet our front-running data spaces
The reason our booth is the largest IDSA has ever had is because our partners joined us. Mobility Data Space, FIWARE and TNO showcased data spaces that are opening doors to new business models and service offerings that did not exist until recently.
One is the impressive Mobility Data Space, which fully implemented the IDS Reference Architecture Model (IDS-RAM) and is transforming transportation. In January 2022, a total of 80 data sets were made available by 200 companies. Volkswagen and BMW published safety data, which can be used by developers of maps, municipalities, road authorities or mobility service providers to enrich their own applications and services.
Connected data spaces to reduce CO2 emission
For the first time, entire data spaces have been linked together – even connected across national borders! Fraunhofer, NTT, Sovity and TNO have brought together the data ecosystems of OMRON factories and OMRON suppliers in the Netherlands and Japan. Now the CO2 emissions of all factories can be compared. This enables smart production decisions: The factories with the lowest emissions can be selected to reduce the impact on the climate.
In particular, TNO and Sovity have collaborated to achieve compliance between TNO's IDS Connector and Fraunhofer ISST's Dataspace Connector. The joined forces enable secure data exchange between OMRON plants.
Help for the health industry
Our big booth reception at the Hannover Fair provided all our partners, members, and non-members with an overview of IDSA's latest achievements.
André Nemat – Member of the Board of IDSA – took the stage. He is advocating for IDSA in a variety of contexts, but most of all in health care. Andre's message was clear: The health industry needs data spaces. No hospital, research institute, pharmaceuticals company, healthcare provider has all the data they need for best possible value creation. None of these players can meet market challenges on their own. 
Data spaces have the power to overcome these obstacles and pave the way for trusted and secure cross-organizational data exchange ensuring each party's data sovereignty and help fight diseases better.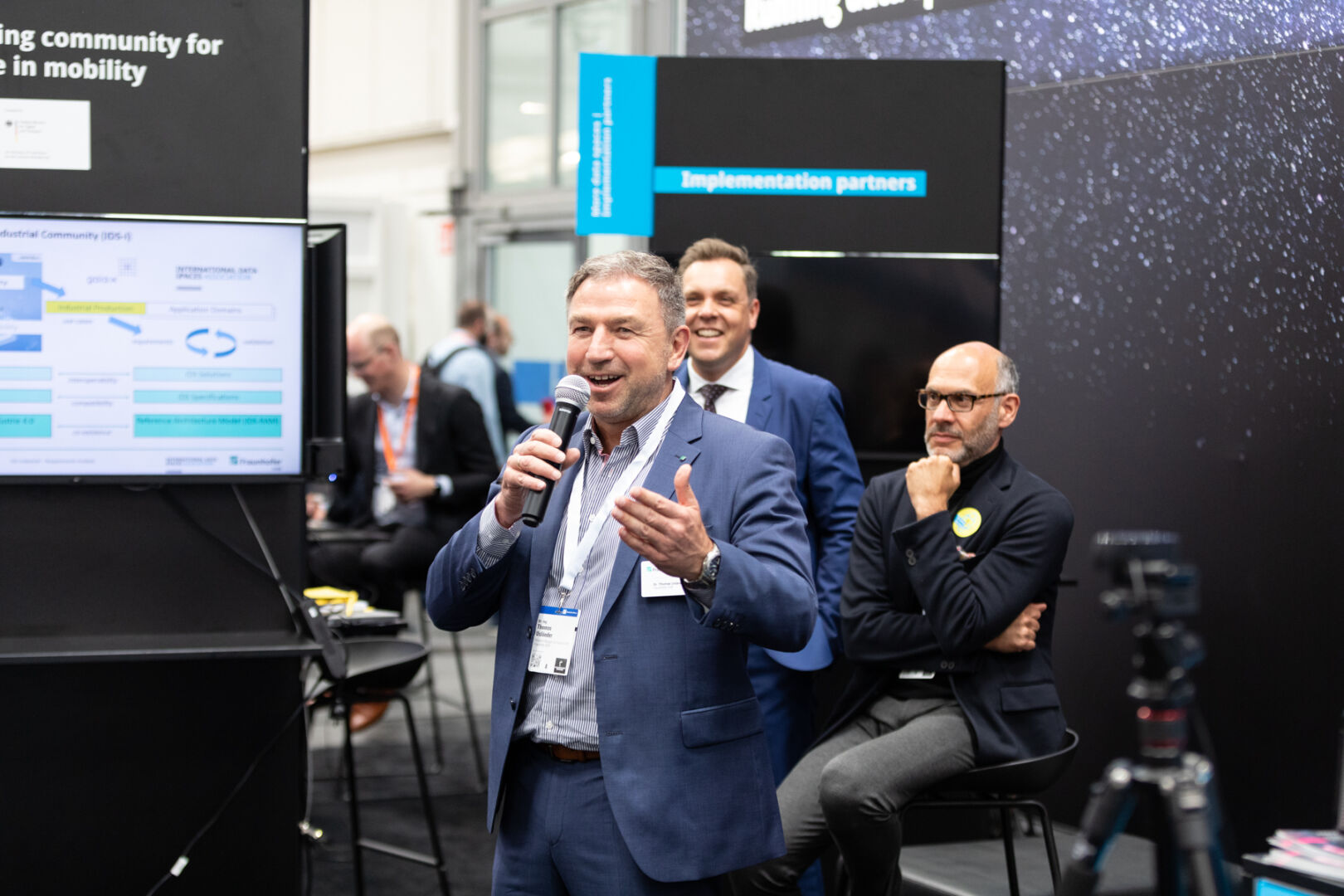 New position paper from IDS-I community
Following André, Thomas Usländer from IDSA's industrial community presented the new position paper 'Data Sovereignty – Requirements Analysis of Manufacturing Use Cases'. He showed us, how the increasing digitization in the manufacturing industry within and between production companies raises the question of secure and interoperable data sharing between companies for joint businesses. 
The paper follows a use case driven approach to reveal a structured and prioritized set of requirements on a conceptual level, abstracting from the options and constraints of underlying technology and operational infrastructures.
Change through collaboration: the new IDS-RAM
Sebastian Steinbuss, our CTO, then took a deep dive into the fundamentals of the fourth version of our IDS-RAM. It is now ready to provide an even more detailed foundation for building data spaces. We consolidated the great feedback and change requests we received.
How can you get involved? Easy. Whether you have a question, want to request a change, or want to contribute to the text: Just join one of our working groups or GitHub repositories. This was Sebastian's call to action regarding the development of the RAM.
We were quite happy with the great interest in our work and hope to see you in Hannover next year!
Credits of all photos: Martin Flintrop / IDSA