Digitalisation is changing the working world. Industry 4.0 is on everybody's lips and many people see the fully-digitised company as the future. Yet, when dealing with the challenges and chances of the fourth industrial revolution, "politics and society have hyped themselves up with a lot of terms from Industry 4.0". Ulrich Grauvogel is convinced: "Industry and society are well on the way towards a digitised future, but are using a lot of different means of transport and taking unsafe routes to get there. Many companies have discovered that the beautiful cyber helicopter being advertised by the IT system companies simply does not want to take off. Back on earth, in the real world, you have to go on foot and your maps are incomplete."
We spoke to the Chief Marketing Officer (CMO) of member company Data Ahead GmbH.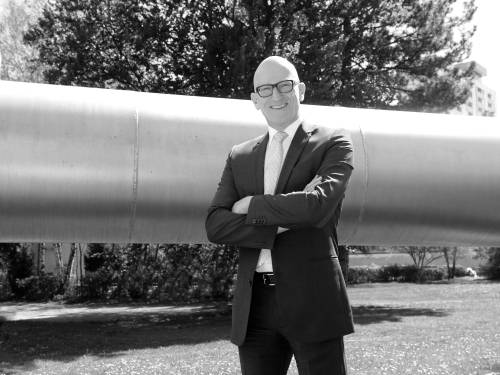 Question:
The flood of data is continuously increasing. More and more data are being produced, integrated into business processes and being utilized. Mass raw data, too, is expected to be constantly available for companies. To what extent is that feasible?
Ulrich Grauvogel:
The all-digitised company is being discussed all the time nowadays and being promoted as a vision for the future. But animated pictures of machines on tablet computers with status indicators or carrying out repairs using cyber gloves, which lots of service technicians might well be dreaming of, are not as easy to realise as some system companies' advertising suggests. Politics and society "have hyped themselves up" with a lot of Industry 4.0 terminology in the past few months.
Question:
What do you think reality is going to be like compared with the vision?
Ulrich Grauvogel:
Many companies that have tried, beyond expensively produced prototypes and case studies, to scale solutions have come down to earth with a bump. After all, there is a big difference between a team of developers virtualising a single pump or an assembly device for an extravagant show or whether the IT and IE team have to put a thousand pumps online in reality.
Question:
Where exactly are the difficulties with respect to implementation?
Ulrich Grauvogel: 
If we continue with this example, access time grows exponentially according to the amount of instances that are involved in a request and which are dynamically connected to each other. If, on top of all that, measurement technology is used to try to keep the size of single samples small, in order to save data volume by using all kinds of allocation tables and dynamic routing, then it gets really interesting. Then, only radical computer technology and, hopefully, a stable network can help. But that can only be illustrated economically up to a certain total amount of data.
Question:
What could a realistic approach and successful implementation actually look like then?
Ulrich Grauvogel:
Have you ever asked yourself how it is possible, for you to get semantically reasonable suggestions which supplement your entry within split seconds when you are entering a search term in the internet? We can learn a lot from this with regard to the mass data in production facilities: the Internet is growing daily, as is the amount of data produced during production. New SaaS products are being developed in the Internet all the time, and new processes are being developed in our factories, new facilities are being installed and new products are being launched as well. Analogies are more distinctive and solutions more obvious than many a technocrat may think.
Full indexation, fully semantic and professional message brokering are some of the key terms behind the architecture we developed for this purpose. This can control cumulated data amounts at petabyte level. If you play by a few of the rules when homogenising the participating data suppliers, and, first of all, do without reformatting the raw data, they can survive both permanently and resiliently and can also be accessed via standardized web-enabled interfaces.
Question:
How is this architecture accepted and implemented in practice?
Ulrich Grauvogel:
So far, we have installed this architecture successfully more than 50 times in the DACH region (Germany, Austria and Switzerland). And now some corporations are beginning to include it as a universal tool in their ecosystems. The possibility of getting a spontaneous synopsis of all their raw data gives companies a strategic and economic benefit. And on top of that, employees feel motivated rather than frustrated if they can analyse their processes themselves without having to cope somewhere between their internal IT, proprietary machine controls and system company consultants.
Question:
As an IDSA member, where do you see interfaces and the advantages of Industrial Data Space?
Ulrich Grauvogel:
The IDSA has understood, in an exemplary manner, how to virtually connect renowned stakeholders and their respective best-in-class competencies to become effective IIOT value chains. We have noticed a real difference in comparison to other such bodies. There is a desire to quickly implement real use cases, to think them through to the end and to transfer them rapidly into useable and truly scalable architectures. Practical relevance and experience do not guarantee success on their own, but they are necessary prerequisites. Aside from the many theoretical approaches concerning the Industrial Internet of Things (IIOT), success will come to those who are fast enough to set smart de facto standards to provide real benefits in practice.
Info box Data Ahead GmbH
Over the years, Data Ahead has developed from being a system company purely for measurement and test technology and data management to become a specialist provider for industrial mass data logistics. The 25-strong team does not compete with system integrators and application companies, but rather provides them with specifically configured gateways, edge computing and high-speed architectures.